I've been using Office 365 for a while at home and recently it updated to the 2016 equivalent version. It was then I started to notice some nice shortcuts in the email message that will be a real bonus within law firms. The two I noticed were "Suggested Meetings" and "Action Items", they appear just above the message body.

Basically each one appears if they notice things within the email, first up in this case it has noticed some text "catch up ….. this Sunday 11th Sept" which it is using to suggest a meeting for me.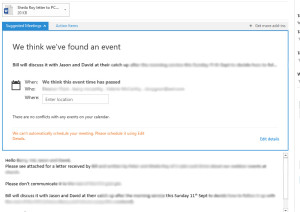 Now in this case the date has passed but from here I can quickly click "Edit Details" and it fills in as much as it can in a calendar appointment, shortcutting the process of scheduling meetings (it even used the email addresses to schedule other recipients for the meeting).
Here's an example of one that is in the future.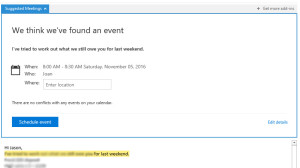 In this case I can just add the location if required and click the schedule event button and it's done!
The "Action Items" option just pulls out from an email the key actions it thinks are required. Basically giving you a quick summary of what's required from you in a long email.

In this case a request to see the attachment and a reminder not to communicate further just yet. I can flag for follow up from here.
There is also a Bing maps add-in that recognises addresses from the email and can quickly show you a map of the location within the email body. Since finding these I've also found a Wunderlist app add-in that lets me quickly add information from an email into my wunderlist task list.
And the best bit is you don't need to worry about these adding to the long list of COM add-ins within Outlook that slow down your startup time, these are all of the new Office 365 add-in type that eventually should work across all Office 365 platforms (web, desktop, tablet etc).
I just wonder how emails stored in iManage Work behave? Anyone with iManage and Office 2013 or above care to comment below?