ILTA 2014 – Nashville 18th-21st August
The conference kicks off Sunday evening with the "Communities of Interest" groups, now to me as a UK attendee these don't really have any gravitas as we seem to be a bit divorced from all the ILTA sessions, panels, groups that go on outside the annual conference**. But I did make my way into the tweetup and met with a few people I've conversed with on twitter over the past few years. These sessions were followed by the speaker meet and greet, which for a newbie speaker seemed like a large gathering of people who knew each other! But forcing myself to network I got chatting to a few folks, most interesting were a couple of university students from California doing a project for an Australian software company wanting to break into Legal. An interesting insight into how companies look at new markets.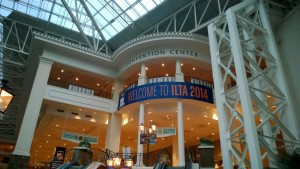 Monday and the conference kicks off properly with the opening keynote. This was excellent, it was presented by Peter Diamandis (chairman of the XPRIZE Foundation), future gazing on the general theme : "Over the next 20-30 years we're going to meet and exceed the needs of everyone on the planet".
The first section of the talk looked at Technology, here are a few bullet points I pulled from this part.
He talked about the news media being a drug pusher, where bad news is the drug. But look behind the news and see that it's not all bad, for example, in the US even for those defined as poor, 99% have electricity, water etc. Technology is what has changed this.
Today a kid in a garage can start a company, go viral and touch a billion people.
In 10 years predicted 40% of Future 500 companies don't exist yet
Technology is growing exponentially

By 2023 the standard $1000 computer will be calculating at the speed of human brain
By 2050 it will be at speed of entire human race
The speed of this change is exponential, and this can lead to disruptive stress or disruptive opportunity (the former is where you're in the business that the kid in the garage is building something for, the latter is the kids business).
He talked through some examples of these technologies. About IBM's Watson, with IBM now moving it to a platform that you can build on. So what happens when this is available to all on the smartphone? Putting this in the Legal arena, what happens when legal apps on this platform?
As an example of the growth we just can't perceive, he talked about how some technologies will hit this growth and experience one billion times improvement in next 10-30 years – an example from the past of this was the digital camera from 1976 to 2014 which showed this level of growth, where will these be when another 1bn times better than today! What does this mean for say eDiscovery in legal?
Then onto cars and this was a great example of how disruptive technology can be. How the autonomous car will demonetise everything – if cars don't crash, you can make them much smaller and out of lightweight material. You don't need to own a car, you just use one. And the "wow" statement, kids born now won't drive a car at all as autonomous cars will be the norm in 18 years!
Finally 3D printing disrupting a ten trillion dollar manufacturing industry. A future where anyone can scan or print anything.
It was a really uplifting section that showed how technology improves rapidly and changes industries. The ending remark was a warning to companies:
If you're dependant on innovation solely from inside your company, you will lose
This led onto a section talking about crowd sourcing. Where he talked about how the X Prize came about and what it plans to do next. This next project after the space competition was a $10m Tricorder X Prize – the aim was to build a handheld mobile device for people (not doctors) to put healthcare in your hand. A device that can diagnose your illness as well as a team of doctors. 330 teams entered, they are now down to the top 10 and expect to announce a winner in 18 months.
They are already getting ready to launch the next project, a global learning X Prize. Asking a team to build an app with an aim of teaching reading, writing, numeracy to kids in just 18 months. They are also pushing a toolset so people can design and build a competition themselves to force innovation within organisations and communities. HeroX.com.
The finish was an upbeat note on how this explosion in technology brings abundance. An example was solar energy that is experiencing exponential change, the stat given was that the US will generate 15-20% of their energy by solar in 15years. Of the world's population in 2000 only 6% were connected to the internet, by 2010 it was 23% and by 2020 it will be 66% (or in numbers 3 billion new people connected). What will these 3bn create, discover, invent? What we think now is scarce will become abundant. Example given was how aluminium was difficult to extract and therefore scarce and now thanks to technology is abundant.
A real uplifting talk to start the week and one that generated a fair few conversations during the week.
In the next post on Tuesday I'll look through some of the sessions I went to during the week.
** at the end of the conference I had a twitter conversation with Jeffrey Brandt about UK ILTA, it ended up with me thinking that maybe we as Legal IT folks in the UK need to get involved more with the ILTA events in the UK to shape them to something akin to the full US conference. This may bring us closer to the communities of interest through the year too.