This is one of those blog posts that I've thought about for a while, but worried that I was stating the bleeding obvious and so have put it off. I've used Office Lens and OneNote for so long now that I figure others must know about it and be using it? But if not then there are folks missing out on a really useful tool for anyone who needs to collate information from various sources (whiteboard write ups, projector screens, hand written notes on paper, printed documents, business cards etc). Given that law firms are mainly users of Microsoft Office and are now generally on smartphone platforms it's a great combination for the lawyers.
So here we go.
Office Lens: This is a smartphone app for iPhone, Android and Windows 10 Mobile. Its purpose is to allow you to quickly take notes using the phones camera.
The app allows simple selection of some defaults (whiteboard, document etc) to set things up and then attempts to auto crop the content (and does a good job for most things). You can then fine tune this before accepting the photo, where the app then flattens and straightens up the image (so if you've taken the photo at an angle what you end up with is a nice flat image).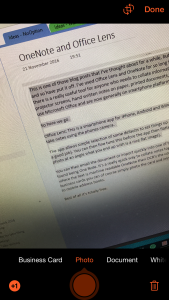 You can then email the document or import quickly into one of the key Microsoft Office apps, the most useful I have found being One Note. It's a really quick way to collate notes together in a OneNote notebook. For scanned images where the text is machine readable OneNote then OCR's the content and makes it searchable in the notebook. For business cards you can of course simply photo the card and immediately add the information directly as digital contact to mobile address books – there's an article here on how to do this.
Best of all it's totally free.