I know, I know this post is late. Very late. I posted my last bulletin from ILTA back at the beginning of September and now we're a few days from the clocks going back at the end of October! Yes, back at ILTA Microsoft launched their legal DMS (Document Management System) entitled "Matter Centre". Developed for their in house legal team (not an insubstantial team, 1100 employees across 55 countries), they have decided to open it up to the legal world in general. The press release can be found here with details of what's on offer, basically it offers the functionality of a DMS as you'd expect.
Two areas were of interest to me:
1) It's built on Office365. So for a small to medium firm you can now have email (via Exchange), instant messaging and telephony (lync), your intranet (sharepoint) and your DMS (matter centre) all in the cloud. All secured by Microsoft. All monitored, managed, backed up by Microsoft. All the business continuity and future proofing you could want from a top class infrastructure team managed and all delivered for you by Microsoft. What's more you can access at the office, on the move or at home with ease. It's a compelling case for a firm that hasn't the IT resources to manage a bespoke on site set up.
Now the downside for me is the DMS is effectively SharePoint at its core. I'm still not 100% convinced on SharePoint, however the potential manageability and scalability issues are taken away from being your problem, so maybe it's not a big deal?
2) Now although I'm wavering on the first point with it being SharePoint underneath, this second point for me is the killer. Apps for Office, the method of integration for Matter Centre isn't the old plug in method but the newer Apps for Office developed for Office 2013 and Office 365. This brings much slicker integration, the look and feel just works with Office. So no additional toolbars that look out of place or dialogue boxes designed for Office 2 or 3 versions back, it looks slick.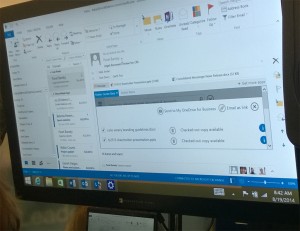 So as you can see from the photo above with Outlook, the Matter Centre "dialogue" just appears in the email body. Now I have to say the system looked very much beta 1 and some of the apps need a bit of polish. But, this has to be the way to integrate a DMS in future! With a bit of thought and design you could craft an interface that just feels as though its the norm for office. In fact think how OneDrive is now integrated as the default over the C: drive.
The same integration is available in all the Office products, so below is the integration into Word: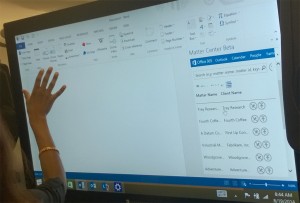 Again instant access to the Matter Centre system integrated into Word. And installing them is simple, just go to the appstore and install!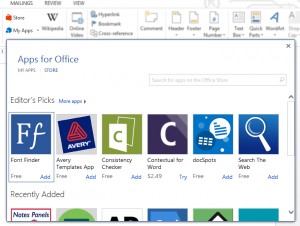 For the IT dept. Microsoft has released a product called Telemetry Dashboard which will allow monitoring of all the apps installed across the user base. As the Microsoft blurb says, you can "monitor loads and load failures for apps for Office in Word, Excel, and Outlook. This information will tell you which apps for Office are frequently used in your organization and which apps for Office are experiencing errors".
This for me is the key feature of Matter Centre, the use of apps could potentially allow me to install the DMS on my home version of Office365 and get seamless access to the DMS. It's a feature I hope the current DMS vendors will take a look at and maybe design and build a user interface from scratch for Office 2013 onwards, maybe also throw in a nice "DeskSite" Metro app in Windows 10 and we'll have a DMS for the future!