Back in June I did a talk at a conference on mobility. There was a bit of future gazing from me on where I thought law firms would go next with their desktop PC's. It was a conference sponsored by the UK magazine Computing, unfortunately one of their journalists then reported what I'd said as the current strategy for our firm!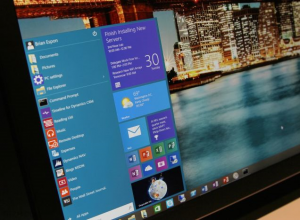 Today's launch of the next version of Windows by Microsoft, Windows 10, made me more sure that the future of legal desktops is from the Redmond company rather than from Cupertino. The following are the highlights I picked out, things that iron out those kinks in Windows 8 to make Windows 10 more of a certainty in law firms.
"Continuum" – this is a new feature that adapts the OS to the device, got a keyboard and mouse and the new modern UI apps will open in windows and the device acts like a Windows 7 desktop machine. Snap off the keyboard and use like a tablet and things revert to a full screen more touch friendly interface. You could do it in Windows 8.1 but this now works as it should, automatically.
 The Start Menu is back. This wasn't a big deal for me, but for lots of folks it was. So can only be a good thing it's back, allows that desktop or modern UI split in a seamless rather than jarring way.
Desktops for different purposes. You can use one for personal and one for business. I'm not sure whether this is more than Windows 8.1's ability to have a desktop on one monitor and a modern app on the other, it sounds like it but information is light at the moment.
I'm sure there'll be much more over the coming weeks, but I'm convinced Windows 10 and the hybrid desktop/modern UI works for legal. Allowing old legacy apps to continue in a desktop mode as now, but then brings the flexibility to pick up the screen and access data in a modern touch friendly way on the move. Also this will be one version of Windows for phone, tablet and desktop with one Windows Store. This one platform and the develop once platform Microsoft are pushing should be great news for legal vendors. In fact it's the one thing I liked about their Matter Centre product they demoed at ILTA (more about that in a post I promised early in September but have yet to write!)
But to pinch a headline after seeing the launch today, I do believe Windows 10 could be the catalyst for law firms next PC refreshes!
Update:
Just read some more on Windows 10 and the new security features really stood out. Whereas bitlocker in Windows 7 protected the data on the device, Windows 10 will have an additional layer of protection using containers and data separation at the app and file level to protect the data wherever it goes – on tablet, PC, USB drive, cloud etc. Very interesting from a law firms point of view in protecting client data.